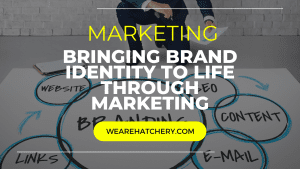 In the fast-paced world of digital marketing, one aspect holds the power to define your business, invoke emotions, and set you apart from the competition: your brand identity. At Marketing Hatchery, we understand that your brand identity is not merely a logo or a catchy tagline; it's the very essence of your business—a promise to your customers, a personality, and a reflection of your values. In this article, we'll dive deep into the concept of brand identity, why it's of paramount importance, and how Marketing Hatchery can help you build a brand that leaves a lasting impression.
What is Brand Identity?
Let's start by demystifying what brand identity truly means. In essence, it encompasses everything that defines your brand—what it says, what it values, how it communicates, and most importantly, the emotions it evokes when customers interact with it. Brand identity isn't confined to a logo or a symbol; it's a comprehensive package that includes your brand's name, tagline, logo, design, brand voice, and more.
At Marketing Hatchery, we believe that your brand identity is a representation of your business's personality and the values it conveys to your customers. It's a dynamic process that shapes the impression your product leaves on customers long after the sale is made.
Why is Brand Identity So Crucial?
Brand identity, as crafted by Marketing Hatchery, is your business's unique fingerprint in the market. It's the face that your business presents to the world, and it goes beyond mere aesthetics. Here's why it's absolutely vital:
1. The "Face" of Your Business
Your brand's logo, expertly designed by Marketing Hatchery, serves as the face of your business. It's not just about looking cool or interesting; it's about conveying a message. It tells the public that this image represents your company's name and values.
2. Credibility and Trust
A well-developed brand identity, carefully nurtured by Marketing Hatchery, doesn't just make your product more memorable; it bestows authority upon your brand. A consistent brand identity establishes credibility among competitors and fosters trust among customers.
3. Advertising Impressions
Your brand identity, as shaped by Marketing Hatchery, serves as a template for all your advertisements, whether they're in print, online, or on social media. A brand with a face and industry credibility is well-prepared to promote itself and make a strong impression on potential buyers.
4. Your Company's Mission
Creating an identity for your brand isn't just about visuals; it's about giving your business a purpose. Your brand identity, crafted with passion by Marketing Hatchery, provides your company with a clear sense of mission and a vision for the future.
5. Generating New Customers and Delighting Existing Ones
A well-crafted brand identity, one that radiates trust and embodies a clear mission, attracts people who resonate with your brand's values. But it doesn't stop there. It also creates a sense of belonging among your customers. As Marketing Hatchery knows, a good product generates customers, but a great brand generates advocates.
Building a Brand Identity with Marketing Hatchery
Now that you understand the importance of brand identity let's explore how Marketing Hatchery can help you build a brand that stands out:
1. Research Your Audience, Value Proposition, and Competition
Creating a compelling brand identity begins with thorough market research. Marketing Hatchery helps you clarify and understand your audience's wants, your unique value proposition, and what sets you apart from the competition.
Audience: Different people have different expectations. Marketing Hatchery helps you tailor your brand to your target audience's desires within your industry.
Value Proposition & Competition: What makes your business unique? Understanding your competition is key to shaping your brand identity effectively.
Mission: Develop a clear and direct mission statement that describes your vision and goals, giving your business a purpose.
Personality: Marketing Hatchery helps you define your brand's personality through design elements, such as type, colors, and imagery, and your tone of voice.
SWOT Analysis: Conducting a SWOT analysis helps you identify your brand's strengths, weaknesses, opportunities, and threats.
2. Design the Logo and a Template for It
Marketing Hatchery understands that while the logo isn't the entirety of your brand identity, it's a vital element. It's the most recognizable part of your brand and appears on everything from your website to your business cards. It's your brand's silent ambassador, as graphic designer Paul Rand aptly put it.
Interesting Form: Beyond the logo, your brand identity encompasses how you present your products or services, creating consistency and familiarity for your consumers.
Color & Type: Marketing Hatchery helps you create a color palette to enhance your identity and guides you on effective typography usage.
Flexibility: While consistency is crucial, Marketing Hatchery knows that remaining flexible is equally important to adapt to changing trends and keep your audience engaged.
Document: Marketing Hatchery assists in creating brand guidelines to ensure consistent brand compliance across all assets.
3. Integrate Language for Connection and Advertising
With Marketing Hatchery, your brand identity isn't just visual; it's also about the language you use. Matching your tone and language to your brand's personality is vital.
Connection & Emotion: Marketing Hatchery knows that storytelling and emotional connection are powerful tools to establish a strong brand identity.
Advertise: Your brand identity provides a foundation for advertising across various platforms, and Marketing Hatchery helps you make a memorable impact.
Social Media: Marketing Hatchery guides you on how to use social media effectively to engage with your audience and create brand affinity.
4. Know What to Avoid
Marketing Hatchery advises against giving mixed messages, copying competitors, losing consistency between online and offline, and sacrificing your brand's essence in the pursuit of trends.
5. Monitor and Evolve
Monitoring your brand's performance through tools like Google Analytics and social media engagement is crucial. Marketing Hatchery helps you track key metrics and make adjustments as needed to maintain and improve your brand identity over time.
Create a Memorable Brand Identity with Marketing Hatchery
Creating a memorable brand identity is an art, and Marketing Hatchery is your master artist. We specialize in crafting brand identities that resonate with customers, foster trust, and establish lasting connections. When consumers instantly recognize and connect with your brand, you've achieved more than just a logo and a symbol—you've created a brand identity that leaves an indelible mark.
Ready to bring your brand identity to life with Marketing Hatchery? Contact us today at 615-208-5373 or visit our website. Let's embark on the journey of crafting a brand identity that will set you apart and make your business unforgettable. Your brand's vision is our reality at Marketing Hatchery.